Next Thursday, 19 december, 10.30-13.15h, will take place the Christmas edition of the IQCC Forum, a quarterly meeting-place where high-quality science will be discussed. The IQCC Forum provides the opportunity for young researchers (and more advanced researchers) to present their work to a wide audience. This will lead to better knowledge of the work that is being performed in all the different research groups of the institute, and enables the researchers to communicate their exciting new findings.
Schedule (Sala AC017, LEAR, Aulari Comú Montilivi)
10.30h: Guillem Casadevall – Reconversion of a hydroxynitrile lyase into an esterase by computational rational design
10.50h: Jordi Vila – Rh-catalyzed cyclization reactions involving 1,5-bisallenes
11.10h: Sílvia Escayola – Mechanistic studies of nitrous oxide fixation by homogeneous ruthenium hydride pincer catalysts
11.30h: Coffee break – networking
12.00h: Andrea Palone – Predictable enantioselectivity in C-H bond oxidation catalyzed by manganese complexes
12.20h: Steven Roldán – Computational mechanistic studies on the aromatic homologation and the alkyne mono-annulation of a C-F activated nickel complex
12.40h: Mònica Rodríguez – C

sp3

-H alkylation via metallocarbene intermediates using an electrophilic iron catalysts paired with a lithium cation
We are looking forward to seeing you at the IQCC Forum!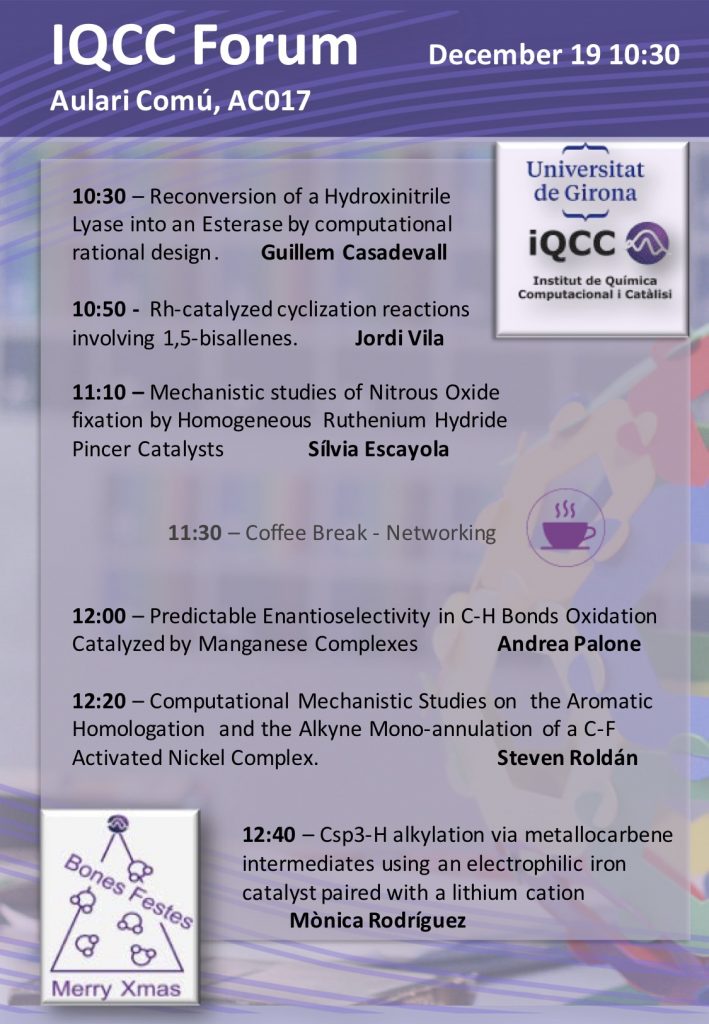 Update: Pictures of the event.